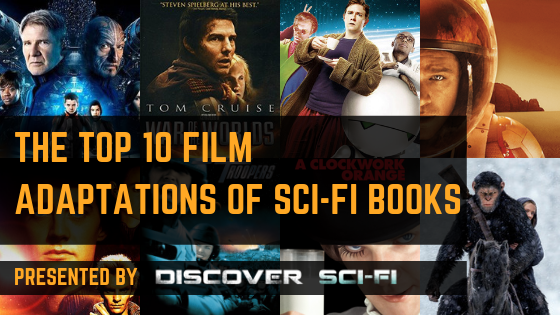 Did you know that there is an official Discover Sci-Fi Facebook group?
Fuelled by the opinions of hundreds of sci-fi fans like yourself, each week we spark a new debate where you guys battle it out over which books rank at the top of best ever lists.
Ordered from 10 to 1 below based on your votes in the group and on this blog, this week we've got your top 10 selections for the best movie adaptation of a sci-fi book or series.
Click on the links to pick up the books that inspired each of the movies to add to your collection, and then add your comments at the bottom of this post (or in our Facebook group) to let us know if you agree (or not!).
*The results were decided by you based on votes tallied up between our Facebook group and on our blog.
10. Planet of the Apes (1968) by Pierre Boulle
Rounding out the top 10 list is Planet of the Apes, the original 1968 film version, based on the sci-fi novel by Pierre Boulle.
First published more than fifty years ago, Pierre Boulle's chilling novel launched one of the greatest science fiction sagas in motion picture history.
The novel tells the tale of three human explorers from Earth who visit a planet orbiting the star Betelgeuse, in which great apes are the dominant intelligent and civilized species, whereas humans are reduced to a savage animal-like state.
---
9. The Hitchhiker's Guide to the Galaxy by Douglas Adams
At number 9, The Hitchhiker's Guide to the Galaxy is a 2005 British-American science fiction comedy film directed by Garth Jennings, based upon previous works in the media franchise of the same name, created by Douglas Adams. 
After several years of setbacks and renewed efforts to start production and a quarter of a century after the first book was published, the big-screen adaptation of The Hitchhiker's Guide to the Galaxy was finally shot.
---
8. The Time Machine (1960) by H.G. Wells
The Time Machine (also known promotionally as H. G. Wells' The Time Machine) is a 1960 American science fiction film in Metrocolor from Metro-Goldwyn-Mayer, produced and directed by George Pal, that stars Rod Taylor, Yvette Mimieux, and Alan Young. The film was based on the 1895 novella of the same name by H. G. Wells that was influential on the development of science fiction.
The Time Machine received an Oscar for its time-lapse photographic effects, which show the world changing rapidly as the time traveler journeys into the future.
---
7. Contact by Carl Sagan
Coming in at number 7, Contact is a 1997 American science fiction drama film directed by Robert Zemeckis. It is a film adaptation of Carl Sagan's 1985 novel of the same name; Sagan and his wife Ann Druyan wrote the story outline for the film.
The film won the Hugo Award for Best Dramatic Presentation and received multiple awards and nominations at the Saturn Awards.
---
6. Ender's Game by Orson Scott Card
Ender's Game is a 2013 American military science fiction action film based on Orson Scott Card's 1985 novel of the same name. Written and directed by Gavin Hood, the film stars Asa Butterfield as Andrew "Ender" Wiggin (who also came in at #7 in our list of most iconic sci-fi characters), an unusually gifted child who is sent to an advanced military academy in outer space to prepare for a future alien invasion.
---
5. The War of the Worlds by H.G. Wells
War of the Worlds is the second H.G. Wells book-turned-movie to appear on this list. It also came in at #6 on our top 10 list of best post-apocalyptic books of all time.
It has been adapted twice for the big screen, most recently in 2005 in a version directed by Steven Spielberg, written by Josh Friedman and David Koepp, and starring Tom Cruise.
In the film, an American dock worker is forced to look after his children, from whom he lives separately, as he struggles to protect them and reunite them with their mother when extraterrestrials invade the Earth and devastate cities with towering war machines.
---
4. The Martian by Andy Weir
Coming in at #4, The Martian is a 2015 science fiction film directed by Ridley Scott and starring Matt Damon. The Martian, a novel by Andy Weir, served as the screenplay adapted by Drew Goddard. The film depicts an astronaut's lone struggle to survive on Mars after being left behind, and efforts to rescue him.
The film went over incredibly well with sci-fi fans worldwide, grossing over $630 million worldwide, and earning several awards, including the Hugo Award for Best Long Form Dramatic Presentation, and the Golden Globe Award for Best Actor.
---
3. Dune by Frank Herbert
Dune is a 1984 American epic science fiction film written and directed by David Lynch and based on the 1965 Frank Herbert novel of the same name. The film stars Kyle MacLachlan as young nobleman Paul Atreides – the character who also got your votes as the #3 most EPIC sci-fi character of all time.
A stunning blend of adventure and mysticism, environmentalism and politics, Dune won the first Nebula Award, shared the Hugo Award, and formed the basis of what is undoubtedly the grandest epic in science fiction. Unfortunately, despite it's popularity, most sci-fi fans would argue that the film adaptation did a poor job of representing the novel.
With a new version coming out in 2020, fans are eagerly anticipating this updated version, which hopefully rings more true to the original book.
---
2. 2001: A Space Odyssey from The Sentinel by Arthur C Clarke
At number 2 comes 2001: A Space Odyssey, a 1968 epic science fiction film produced and directed by Stanley Kubrick. The screenplay was written by Kubrick and Arthur C. Clarke, and was inspired by Clarke's short story "The Sentinel".
The film, which follows a voyage to Jupiter with the sentient computer HAL* after the discovery of a mysterious black monolith affecting human evolution, deals with themes of existentialism, human evolution, technology, artificial intelligence, and the possibility of extraterrestrial life. The film is noted for its scientifically accurate depiction of spaceflight, pioneering special effects, and ambiguous imagery.
*HAL-9000 placed in the number 2 slot in our list of top 10 most EPIC sci-fi characters of all time.
---
1. Blade Runner from Do Androids Dream of Electric Sheep by Philip K. Dick
Blade Runner is a 1982 science fiction film directed by Ridley Scott. It is a loose adaptation of Philip K. Dick's novel Do Androids Dream of Electric Sheep? (1968).
The film has influenced many science fiction films, video games, anime, and television series. It brought the work of Philip K. Dick to the attention of Hollywood, and several later big-budget films were based on his work. Seven versions of Blade Runner exist as a result of controversial changes requested by studio executives. A director's cut was released in 1992 after a strong response to test screenings of a workprint. This, in conjunction with the film's popularity as a video rental, made it one of the earliest movies to be released on DVD. 
---
Well, what do you think of that list? Do you agree, or do you feel as though your most-loved movie adaptation is missing/didn't place as you think it deserved? Feel free to join us here in our Facebook group to chime in on the debate, and then check out our most recent poll while you're there. Don't have Facebook? Feel free to add to the comments below.
*All book-related copy in this post was pulled from Amazon & Wikipedia.
https://discoverscifi.com/wp-content/uploads/2019/04/Copy-of-Copy-of-Copy-of-THE-MOST-ICONIC-CHARACTER-IN-SCI-FI.png
315
560
Discover Sci-Fi
https://discoverscifi.com/wp-content/uploads/2019/09/discover-scifi.png
Discover Sci-Fi
2019-04-04 08:00:41
2019-10-13 05:51:19
The top 10 best movies adapted from sci-fi books of all time.