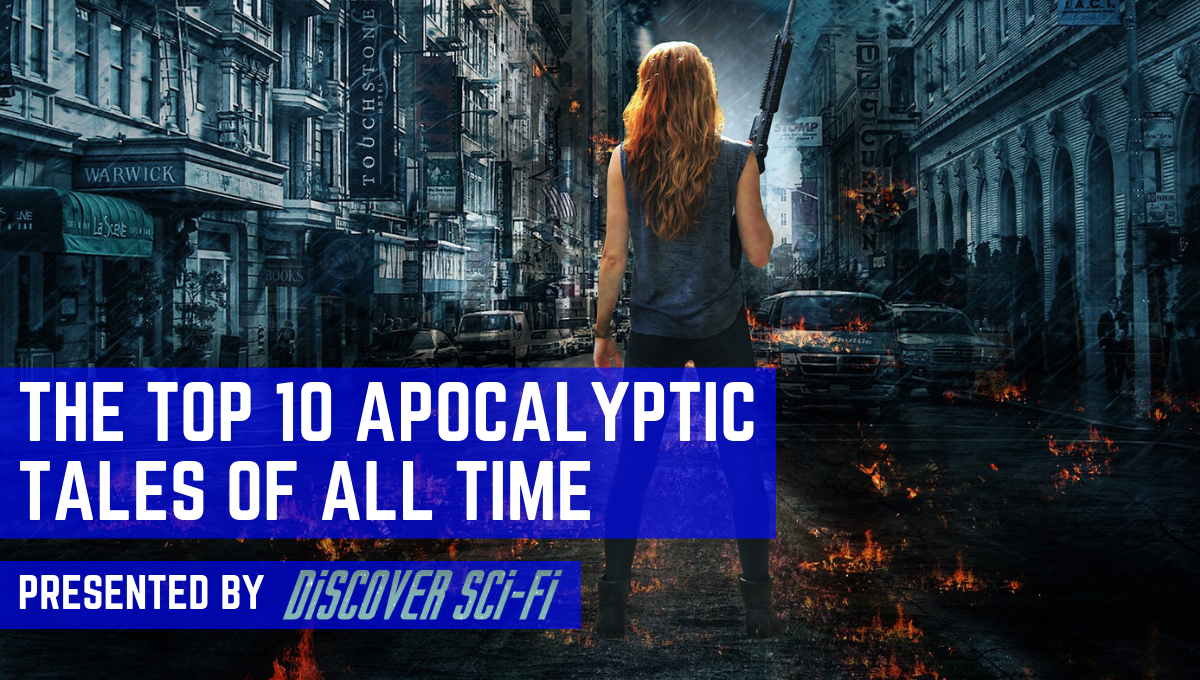 What a close call!
With hundreds of total votes, our top two titles were running neck-and-neck for the entire voting period! And we had three titles in the middle that ended up four votes apart. Who knew apocalyptic stories were so hard to judge!
To review our proposed definition of apocalyptic stories, they generally revolve around the Earth's technological civilization collapse. Sometimes there are crossovers with the dystopian genre, so a novel could be dystopian as well as apocalyptic. Overall in these votes we leave it up to you readers to determine the parameters beyond that basic definition, and if there are any concerns we love to hear about it in the comments.
As always, these top ten lists are not meant to be all-inclusive or definitive, but give a great finger on the pulse of our communities interests and favorites. Want to see who missed out? Here's the original nomination list from the blog.
Without further ado, based on the combined nominations and votes here on the Discover Sci-Fi blog and the Facebook group, here are your top choices for the best apocalyptic tales in literary science fiction.
---
10. One Second After by William R. Forstchen
New York Times best selling author William R. Forstchen now brings us a story which can be all too terrifyingly real...a story in which one man struggles to save his family and his small North Carolina town after America loses a war, in one second, a war that will send America back to the Dark Ages...A war based upon a weapon, an Electro Magnetic Pulse (EMP). A weapon that may already be in the hands of our enemies.
---
9. Commune by Joshua Gayou
A fantastic post-apoc series if you haven't checked it out already. Author Joshua Gayou has also posted an reader's guide to beginning the series, as there are a few aspects of the novels that might need some help explaining.
The series starts with the title opener Commune, with Jake and Billy rescuing two women who are being kept prisoner by scavengers. At the end of their world there's a commune called Jackson, and this is where their story all begins.
---
8. The Hunger Games by Suzanne Collins
Here's an example of a dystopian and post-apocalyptic story. While the apocalyptic focus is primarily on the third novel of the series, The Hunger Games series by Suzanne Collins features a civilization coping with a collapse, a rebuild of a dystopian and classist society, and another collapse.
It opens with the story of Katniss, who steps forward to take her sister's place in the Games, an annual fight to the death on live TV between the segregated districts/classes. But Katniss has been close to death before-and survival, for her, is second nature. Still, if she is to win, she will have to start making choices that weigh survival against humanity and life against love.
---
7. The Postman by David Brin
The following three titles were nearly tied, separated by a mere four vote difference!
Award-winning and New York Times bestselling author David Brin brought us this instant classic, The Postman, a complex cup brimming with the balance of despair and redemption.
We are introduced to Gordon Krantz, who survived the Doomwar only to spend years crossing a post-apocalypse United States looking for something or someone he could believe in again. Ironically, when he's inadvertently forced to assume the made-up role of a "Restored United States" postal inspector, he becomes the very thing he's been seeking: a symbol of hope and rebirth for a desperate nation.
---
6. Wool by Hugh Howey
One neat thing about this title is that if you read it on a device, it uses "Kindle in Motion" which features animation, art or video features. For some readers this might be a fun feature!
Hugh Howey's Silo series has taken the hard sci-fi, apocalyptic reading world by storm.
Wool's premise is titillating. It is the story of mankind clawing for survival, of mankind on the edge. The world outside has grown unkind, the view of it limited, talk of it forbidden. But there are always those who hope, who dream. These are the dangerous people, the residents who infect others with their optimism. Their punishment is simple. They are allowed to go outside.
---
5. Alas, Babylon by Pat Frank
A novel said to have inspired John Lennon, Alas, Babylon​​​​, by Pat Frank, has been called a classic of literary and American fiction since shortly after its publication in 1959.
"Alas, Babylon." Those fateful words heralded the end. When a nuclear holocaust ravages the United States, a thousand years of civilization are stripped away overnight, and tens of millions of people are killed instantly. But for one small town in Florida, miraculously spared, the struggle is just beginning, as men and women of all backgrounds join together to confront the darkness.
Find the Kindle reprint version, or one of its many other formats, on Amazon, here.
---
4. A Canticle for Leibowitz by Walter M. Miller Jr.
A classic from 1959, Walter M. Miller Jr.'s A Canticle for Leibowitz was a Hugo Award Winner in 1961 for best science fiction novel, and triggered a whole host of scholarly research based on its themes of religion, recurrence, and church versus state.
We are told the story of a monk order which seeks to preserve the surviving remnants of man's scientific knowledge until the world is again ready for it.
In the depths of the Utah desert, long after the Flame Deluge has scoured the earth clean, a monk of the Order of Saint Leibowitz has made a miraculous discovery: holy relics from the life of the great saint himself, including the blessed blueprint, the sacred shopping list, and the hallowed shrine of the Fallout Shelter.

In a terrifying age of darkness and decay, these artifacts could be the keys to mankind's salvation. But as the mystery at the core of this groundbreaking novel unfolds, it is the search itself—for meaning, for truth, for love—that offers hope for humanity's rebirth from the ashes.
---
3. Hell Divers by Nicholas Sansbury Smith
A near tie with the A Canticle for Leibowitz, Nicholas Sansbury Smith's Hell Divers series passed it by to reach almost the tip top of our list of ten best apocalyptic sci-fi novels.
This New York Times and USA Today bestselling series opens two centuries after World War III, above a poisoned planet. The final bastion of humanity lives on massive airships circling the globe in search of a habitable area to call home. Aging and outdated, most of the ships plummeted back to earth long ago. The only thing keeping the two surviving lifeboats in the sky are Hell Divers—men and women who risk their lives by skydiving to the surface to scavenge for parts the ships desperately need.
When one of the remaining airships is damaged in an electrical storm, a Hell Diver team is deployed to a hostile zone called Hades. But there's something down there far worse than the mutated creatures discovered on dives in the past—something that threatens the fragile future of humanity.
Check out the ​Hell Divers series on Amazon, here.
---
2. The Stand by Stephen King
We've reached the overwhelmingly top two apocalyptic sci-fi novels of all time, according to our tasteful readers and fans of Discover Sci-Fi. The Stand by Stephen King totalled well over a hundred votes, coming in close with number one.
In 1978, Stephen King published what many believe to be his finest novel. The Stand was originally published in a much shorter form, and has since been published in its complete and uncut edition. Do any of our readers have experience reading both? What did you think of each?
According to The Stand, this is the way the world ends: with a nanosecond of computer error in a Defense Department laboratory and a million casual contacts that form the links in a chain letter of death.

And here is the bleak new world of the day after: a world stripped of its institutions and emptied of 99 percent of its people. A world in which a handful of panicky survivors choose sides -- or are chosen. A world in which good rides on the frail shoulders of the 108-year-old Mother Abigail -- and the worst nightmares of evil are embodied in a man with a lethal smile and unspeakable powers: Randall Flagg, the dark man.
---
1. Lucifer's Hammer by Larry Niven and Jerry Pournelle
Closing the poll with first place is the joint effort by Larry Niven and Jerry Pournelle, Lucifer's Hammer. So many of you said you had a hard time choosing, but we commend you on your decision.
Lucifer's Hammer was first published in 1977 and was nominated for the Hugo Award for Best Novel in 1978 and was adapted to comic book 1993. It's only one of several fantastic novels by this formidable sci-fi duo, so if you've already read this one, check out some of their others, like The Mote In God's Eye.
Balancing suspense, humor, and interesting little lectures, Niven and Pournelle create one of the first novels to realistically describe the effects of a comet striking earth.
Find Lucifer's Hammer on Amazon, here.
---
Of course, the story doesn't end here, does it?
If we asked you another year from now the literary and political scene will already look different enough that what's termed the "best" apocalyptic science fiction will be considered through a different historical lens. For now, visit us here in our Facebook group to chime in on the debate, and then check out our most recent poll while you're there. Don't have Facebook? Feel free to add to the comments below.
*All book-related copy in this post was pulled from Amazon & Wikipedia, unless otherwise credited.
https://discoverscifi.com/wp-content/uploads/2019/08/THE-TOP-10-APOCALYPTIC-TALES-OF-ALL-TIME.png
680
1200
Discover Sci-Fi
https://discoverscifi.com/wp-content/uploads/2019/09/discover-scifi.png
Discover Sci-Fi
2019-08-29 01:10:37
2019-09-27 06:58:48
The Top 10 Apocalyptic Sci-Fi Stories of All Time