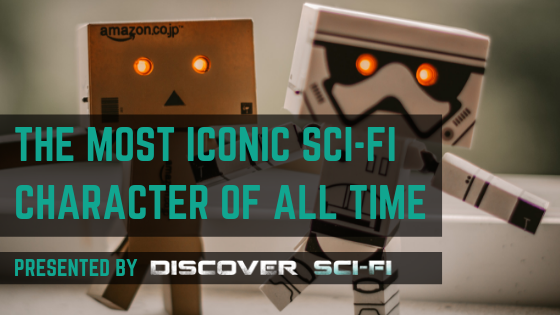 Did you know that there is an official Discover Sci-Fi Facebook group?
Fuelled by the opinions of hundreds of sci-fi fans like yourself, each week we spark a new debate where you guys battle it out over which books rank at top of best ever lists.
Ordered from 10 to 1 below based on your votes in the group, this week we've got your top 10 selections for the most iconic character of all time from a sci-fi book or series.
Click on any of the links to pick up the books featuring each character to add to your collection, and then add your comments at the bottom of this post (or in our Facebook group) to let us know if you agree (or not!).
*The results were decided by you based on votes tallied up between our Facebook group and on our blog.
10. Valentin Michael Smith from A Stranger in a Strange Land by Robert A. Heinlein
Rounding out the top 10 list is Valentine Michael Smith from the book A Stranger in a Strange Landby Robert A. Heinlein.
Robert Heinlein's Hugo Award-winning all-time masterpiece, the brilliant novel that grew from a cult favorite to a bestseller to a science fiction classic.
Raised by Martians on Mars, Valentine Michael Smith is a human who has never seen another member of his species. Sent to Earth, he is a stranger who must learn what it is to be a man. But his own beliefs and his powers far exceed the limits of humankind, and as he teaches them about grokking and water-sharing, he also inspires a transformation that will alter Earth's inhabitants forever…
---
9. Roland Deschain from The Dark Tower series by Stephen King
At number 9 is #1 national bestseller, The Gunslinger which introduces readers to one of Stephen King's most powerful creations, Roland of Gilead: The Last Gunslinger. He is a haunting figure, a loner on a spellbinding journey into good and evil. In his desolate world, which mirrors our own in frightening ways, Roland tracks The Man in Black, encounters an enticing woman named Alice, and begins a friendship with the boy from New York named Jake.
Inspired in part by the Robert Browning narrative poem, "Childe Roland to the Dark Tower Came," The Gunslinger is "a compelling whirlpool of a story that draws one irretrievable to its center" (Milwaukee Sentinel). It is "brilliant and fresh…and will leave you panting for more" (Booklist).
---
8. R. Daneel Olivaw from Isaac Asimov's Robot and Foundation series.
R. Daneel Olivaw is a fictional robot created by Isaac Asimov. The "R" initial in his name stands for "Robot," a naming convention in Asimov's future society. Daneel appears in Asimov's Robot and Foundation series, most notably in the novels The Caves of Steel, The Naked Sun, The Robots of Dawn, Robots and Empire, Prelude to Foundation, Forward the Foundation, Foundation and Earth as well as the short story "Mirror Image". He is constructed immediately prior to the age of the Settlers, and lives at least until the formation of Galaxia, thus spanning the entire history of the First Empire, the Second Empire run by the Second Foundation, and finally the group consciousnesses of Galaxia, although this last is uncertain as no book about this was ever written.
---
7. Andrew "Ender" Wiggin from Ender's Game by Orson Scott Card
"Ender's Game tells the story of a young boy, Ender Wiggin, who is sent to a training academy named Battle School, located in orbit above the Earth, built to train people to become soldiers that will one day battle against a vast alien race known as "Buggers". Ender goes up there, trying his best to become promoted in the difficult training scheme; his brother and sister are trying to restore the world and to make it a better place. For Ender, the training is tough. He is granted a very special teacher, who will help him to become a commander to save humanity from the Third Invasion."
Coming in at #7, Andrew "Ender" Wiggin is the main character in Ender's Game by Orson Scott Card, which won the 1985 Nebula Award for Best Novel and the 1986 Hugo Award for Best Novel.
---
6. Arthur Dent from The Hitchhiker's Guide to the Galaxy by Douglas Adams
"Join Douglas Adams's hapless hero Arthur Dent as he travels the galaxy with his intrepid pal Ford Prefect, getting into horrible messes and generally wreaking hilarious havoc. Dent is grabbed from Earth moments before a cosmic construction team obliterates the planet to build a freeway."
Nominated as one of America's best-loved novels by PBS's The Great American Read, Discover Sci-Fi fans agree, placing Arthur Dent from The Hitchhiker's Guide to the Galaxy by Douglas Adams at #6 on your top list for most iconic sci-fi character.
You'll never read funnier science fiction; Adams is a master of intelligent satire, barbed wit, and comedic dialogue. The Hitchhiker's Guide is rich in comedic detail and thought-provoking situations and stands up to multiple reads. Required reading for science fiction fans, this book (and its follow-ups) is also sure to please fans of Monty Python, Terry Pratchett's Discworld series, and British sitcoms.
---
5. Honor Harrington from the Honor Harrington series by David Weber
Honor Stephanie Alexander-Harrington is a fictional character created in 1992 by writer David Weber as the heroine of the eponymous "Honorverse", a universe described in a series of best-selling[1] military science fiction books set between 4003 and 4025 AD.
Harrington is an officer in the Royal Manticoran Navy (RMN), the space navy of the Star Kingdom of Manticore, an interstellar monarchy that counterbalances its relatively small size with superior space combat technology and capability. She has a genius for tactical command, often overcoming significant odds in critical battles and frequently finding herself at the centre of significant military actions. Her dedication to duty and uncompromising performance results in receiving numerous awards and promotions, earning the respect of interstellar empires, and accumulating implacable enemies. She is a skilled martial artist and through her association with her treecat companion Nimitz, develops an empathic sense that assists her in understanding the emotions of those around her.
---
4. Lazarus "Woodrow Wilson Smith" Long from multiple Robert A. Heinlein books.
Lazarus Long is a fictional character featured in a number of science fiction novels by Robert A. Heinlein. Born in 1912 in the third generation of a selective breeding experiment run by the Ira Howard Foundation, Lazarus (birth name Woodrow Wilson Smith) becomes unusually long-lived, living well over two thousand years with the aid of occasional rejuvenation treatments.
The Lazarus Long set of books involve time travel, parallel dimensions, free love, individualism, and a concept that Heinlein named World as Myth—the theory that universes are created by the act of imagining them, such that even fictional worlds are real.
---
3. Paul Atreides from Dune by Frank Herbert
Set on the desert planet Arrakis, Dune is the story of the boy Paul Atreides—who would become known as Muad'Dib—and of a great family's ambition to bring to fruition humankind's most ancient and unattainable dream.
A stunning blend of adventure and mysticism, environmentalism and politics, Dune won the first Nebula Award, shared the Hugo Award, and formed the basis of what is undoubtedly the grandest epic in science fiction.
---
2. HAL-9000 from 2001: A Space Odyssey by Arthur C. Clarke
HAL 9000 is a fictional character and the main antagonist in Arthur C. Clarke's Space Odyssey series. First appearing in the 1968 film 2001: A Space Odyssey, HAL (Heuristically programmed ALgorithmic computer) is a sentient computer (or artificial general intelligence) that controls the systems of the Discovery One spacecraft and interacts with the ship's astronaut crew. Part of HAL's hardware is shown towards the end of the film, but he is mostly depicted as a camera lens containing a red or yellow dot, instances of which are located throughout the ship.
---
1. Hari Seldon from Asimov's Foundation series
Coming in at #1, Hari Seldon from Isaac Asimov's Foundation series is your choice for most epic sci-fi character of all time. This comes as no surprise, as you also voted Asimov's Foundation trilogy as your #1 pick for top sci-fi book of all time in a recent poll (click here to view the complete list).
In his capacity as mathematics professor at Streeling University on the planet Trantor, Seldon develops psychohistory, an algorithmic science that allows him to predict the future in probabilistic terms. On the basis of his psychohistory he is able to predict the eventual fall of the Galactic Empire and to develop a means to shorten the millennia of chaos to follow. The significance of his discoveries lies behind his nickname "Raven" Seldon.
In the first five books of the Foundation series, Hari Seldon made only one in-the-flesh appearance, in the first part of the first book (Foundation), although he did appear at other times in pre-recorded messages to reveal a Seldon Crisis. After writing five books in chronological order, Asimov went back with two books to better describe the initial process. The two prequels—Prelude to Foundation and Forward the Foundation—describe his life in considerable detail. He is also the central character of the Second Foundation Trilogy written after Asimov's death (Foundation's Fear by Gregory Benford, Foundation and Chaos by Greg Bear, and Foundation's Triumph by David Brin), which are set after Asimov's two prequels.
---
Well, what do you think of that list? Do you agree, or do you feel as though your most-loved character is missing/didn't place as you think deserved? Feel free to join us here in our Facebook group to chime in on the debate, and then check out our most recent poll while you're there. Don't have Facebook? Feel free to add to the comments below.
*All book-related copy in this post was pulled from Amazon & Wikipedia.
https://discoverscifi.com/wp-content/uploads/2019/03/Copy-of-Copy-of-THE-MOST-ICONIC-CHARACTER-IN-SCI-FI.png
315
560
Discover Sci-Fi
https://discoverscifi.com/wp-content/uploads/2019/09/discover-scifi.png
Discover Sci-Fi
2019-03-21 17:24:41
2019-10-13 05:53:27
The top 10 most iconic sci-fi characters all time.