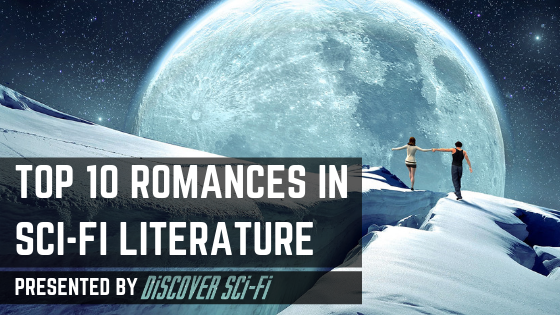 This week, due to–ahem–unconventional nominations over on the Facebook group, we have, for the first time ever in Discover Sci-Fi history, a top 10 list with eleven selections!
We didn't want to leave out the nomination that had the most votes and surely most spirited comments supporting it, despite it not fitting quite so well into the category of "romantic relationships."
So, based on the combined nominations and votes here on the Discover Sci-Fi blog and the Facebook group, here are your top choices for best romance in literary science fiction.
Want to see who missed out? Here's the original nomination list from the blog.
---
10. Reed Beckham and Kate Lovato (The Extinction Cycle series by Nicholas Sansbury Smith)
Who would have thought about love in the apocalypse? For CDC Doctor Kate Lovato and Delta Force Operator, Master Sergeant Reed Beckham it was the last thing on their minds when a bioweapon swept across the globe, killing billions. Beckham's Delta Team, Ghost was assigned to protect Kate as she raced to find a cure. In the first months, the human race teetered toward extinction. Bonded through constant heartbreak and devastating losses, Beckham and Kate found love in the most unlikely of places--the end of the world. And maybe that's exactly what they needed to save it.
Dive into Nicholas Sansbury Smith's Extinction Cycle series available on Amazon and free to read in Kindle Unlimited.
---
9. Alisa and Leonidas (Fallen Empire series by Lindsay Buroker)
Lindsay Buroker is one of the most prolific and well-loved writers in sci-fi today. She chimed in herself on your #9 pick for Alisa and Leonidas's relationship in her Fallen Empire series...
"One of the foundations of romance (whether sci-fi romance or boy-meets-girl in your hometown) is conflict. If the reader isn't sitting there thinking that the characters are perfect for each other but there's no way it could work… that part of the story can fall flat.
I'm not a big fan of characters bickering at each other because of personality conflicts; I much prefer something foundational that keeps them apart. Being from different sides of the tracks… or, in the case of science fiction, from different warring planets.
When my Fallen Empire series starts, our pilot hero, Alisa Marchenko, has just finished fighting a war against the empire and its armies of cyborg soldiers. You can imagine how keen she is to run into one of those cyborg soldiers, especially one of the high-ranking elite officers. But she has to work with him to achieve her goals, and it turns out he's an honorable guy under his gruff exterior. But surely it would be a betrayal to the rebellion and everything she stands for to fall in love with him…" –Lindsay Buroker
The Fallen Empire series is Lindsay's most popular sci-fi series. Want a free copy of books 1-3 in the series? Join the Discover Sci-Fi community by clicking here and entering your email. We'll send you the Fallen Empire Omnibus, along with 9 other free sci-fi reads!
---
8. Manuel & Wyoming Knott (The Moon Is a Harsh Mistress by Robert A. Heinlein)
The Moon Is a Harsh Mistress is a 1966 science fiction novel by American writer Robert A. Heinlein, about a lunar colony's revolt against rule from Earth. The novel expresses and discusses libertarian ideals. It is respected for its credible presentation of a comprehensively imagined future human society on both the Earth and the Moon.
The story is narrated by Manuel Garcia "Mannie" O'Kelly-Davis, a computer technician who discovers that HOLMES IV has achieved self-awareness and has developed a sense of humor. Mannie names it "Mike" after Mycroft Holmes, brother of Sherlock Holmes, and they become friends.
Wyoh, like many of Heinlein's female characters, is constructed to be pleasing to what is called the "male gaze." She also fills much more than that narrow function in the book, however—Wyoh is a dedicated and pragmatic politician. Her personal backstory is touched with tragedy, which gives the character more depth. Her relationship with Manny shows the reader the nature of marriage and romance on the lunar colony, but she also exercises agency and plays a real role in the political decisions throughout the story.
Check out The Moon is a Harsh Mistress available on Amazon.
---
7. Jim and Naomi (The Expanse series by James S. A. Corey)
The Expanse is a series of science fiction novels (and related novellas and short stories) by James S. A. Corey, the joint pen name of authors Daniel Abraham and Ty Franck. The first novel, Leviathan Wakes, was nominated for the Hugo Award for Best Novel in 2012. The series as a whole was nominated for the Best Series Hugo Award in 2017.
Book 1, Leviathan Wakes, introduces Captain James Holden and his crew, which includes Naomi Nagata, an extremely talented engineer...and the only woman in the crew. The story weaves their budding relationship throughout, with more than a few rocky points along the way.
Check out Leviathan Wakes on Amazon.
---
6. Eve Dallas and Roarke (In Death series by J.D. Robb)
At #6 comes J.D. Robb's In Death series and the torrid relationship of Eve Dallas and Roarke.
Eve Dallas is a New York police lieutenant hunting for a ruthless killer. In over ten years on the force, she's seen it all—and knows her survival depends on her instincts. And she's going against every warning telling her not to get involved with Roarke, an Irish billionaire—and a suspect in Eve's murder investigation. But passion and seduction have rules of their own, and it's up to Eve to take a chance in the arms of a man she knows nothing about—except the addictive hunger of needing his touch.
Find out what happens by starting the ​In Death series with book 1, Naked in Death, available on Amazon.
---
5. Zeb and Deety, Jake and Hilda (The Number of the Beast by Robert A. Heinlein)
The Number of the Beast is a science fiction novel by someone who is no stranger to our top 10 polls, and already listed at #8 in this one: American writer Robert A. Heinlein.
It's cover blurb reads, "When two male and two female supremely sensual, unspeakably cerebral humans find themselves under attack from aliens who want their awesome quantum breakthrough, they take to the skies -- and zoom into the cosmos on a rocket roller coaster ride of adventure and danger, ecstasy and peril."
It is one of the 'Lazarus Long' set of books, involving time travel, parallel dimensions, free love, voluntary incest, and a concept that Heinlein named pantheistic solipsism - the theory that universes are created by the act of imagining them so that somewhere Oz is real.
Opinion is divided among science fiction fans as to whether this and other late Heinlein novels are brilliant, creative and original, or simply the wish fulfillment of a man in his second childhood.
Check out The Number of the Beast available on Amazon and see which camp you fall into.
---
4. Tyler Barron and Andi Lafarge (Blood on the Stars series by Jay Allan)
Jay Allan is no stranger to our top 10 polls. His books have previously placed in over 4 of our previous top 10 lists, including best Space Opera and best Starship Captains. And coming in at #4 today is the relationship between Tyler Barron and Andi Lafarge.
Tyler Barron, the grandson of the Confederation's greatest military commander, a man born to duty...born to be a hero. Tyler has carried the burden of his grandfather's legacy since childhood, and he has come into his own as a renowned leader and a skilled officer.
Andromeda Lafarge, an orphan born in the Gut, the most notorious and violent slum in all of the Rim. Andi escapes the poverty and misery of her birth world to become one of the brashest and most notorious old tech prospectors in the Badlands, dancing perpetually on the knife's edge between being a rogue...or and outlaw.
They are entirely different, born into vastly divergent circumstances. They meet as rivals... but it isn't long before they discover something almost inexplicable. Beneath the vast differences, the opposing viewpoints that seem destined to keep them forever on opposite sides, it isn't long before the heat between them takes control...and two loners, two warriors who've struggled all their lives in vastly different ways, discover something they've never known. A true partner and lover, a companion spirit in the continuing fight against their legions of enemies.
Meet Tyler Barron in the Blood on the Stars series available on Amazon (and free to read in Kindle Unlimited). And then learn about Andi Lafarge's epic backstory in the Andromeda Chronicles.
---
3. Cordelia and Aral Vorkosigan (Miles Vorkosigan series by Lois McMaster Bujold)
At #2 is Cordelia and Aral Vorkosigan's tumultuous love affair in the Vorkosigan seres by Lois McMaster Bujold.
Bujold is no stranger to our top 10 polls. In fact, this same series placed in one of our past polls about the Top 10 Bio-Tech in Sci-Fi. She is one of the most acclaimed writers in her field, having won the Hugo Award for best novel four times, matching Robert A. Heinlein's record (not counting his Retro Hugos).
"Bujold began her galaxy-spanning series in the 1980s with a pair of novels, Shards of Honor and Barrayar, about a young starship captain named Cordelia Naismith from the planet Beta. A peaceful, politically progressive planet—basically, Copenhagen in space—Beta sends out scientist-explorers like Cordelia to gather data for its exoplanetary "geological survey." While studying a supposedly uninhabited planet, Cordelia meets the military officer Aral Vorkosigan, from the patriarchal, conservative planet Barrayar, where women tend to be housewives and men destroy themselves on the battlefield. Against all odds, and in the midst of a deadly war, the two fall in love." – Annalee Newitz via. Ars Technica
Dive into the Vorkosigan series with Falling Free available on Amazon.
---
2. John Crichton and Aeryn Sun (Farscape series by DeCandido, Dymond, and Bischoff)
Based on the fan-favorite science fiction television show, the Farscape series of books follows John Crichton, lost and alone in unknown territory, finding refuge of sorts aboard Moya, a vast living starship sheltering a fractious band of bizarre alien fugitives. Adventure awaits!
And, coming in as your #2 pick for most romantic relationship in science fiction is the explosive relationship between John Crichton and Aeryn Sun.
"Farscape's John Crichton and Aeryn Sun should be on the cover of a book called "How to Do Romance Right in Storytelling For All the Times Ever."
For those who know next to nothing about the show, the crux of John and Aeryn's tale is not too complex; he's an astronaut from Earth who's flung across the universe, where he meets a flight jockey named Aeryn Sun, member of an elite, galaxy-dominating military force known as the Peacekeepers. The brief time she spends with him in the first episode has her dubbed "irreversibly contaminated" by her commanding officer, and she is forced to flee with the very escaped criminals who have cost her the only life she has ever known and everything she previously held dear. Problem is, this odd "human" as he calls himself has really blue eyes, and he's all full of emotions and caring and terrible advice…
Despite all the craziness, John and Aeryn are the spacefaring equivalent of a superteam. Their road was full of pitfalls and trauma and laughter and explosions. They are everything we want love to be only moreso, at the highest clarity and sharpest relief we can stand. Every other love story goes to Ten—theirs goes to Eleven." – Emily Asher-Perrin via TOR.com
Dive into the books starting with Farscape: House of Cards available on Amazon.
---
1. F'lar and Lessa (Dragonriders of Pern series by Anne McCaffrey)
Coming in at #1, Anne McCaffrey's Pern is one of the most memorable worlds in science fiction and fantasy. Humans and their flying dragon companions live in fear of thread, a caustic, deadly material that falls sporadically from space. But when the thread doesn't fall for a long time, people become complacent, forgetting that it is the brave dragonriders who can save them from the periodic threat. But when the thread falls, human and dragon heroes must fight the scourge.
The love story of Lessa and Flar becomes the problem-solving story of ridding the planet of "thread" (destructive spores that rain from the sky). As time passes, the two of them come to appreciate one another's intelligence and strength. They begin to trust one another. And then, as you can imagine, they fall madly in love.
Check out books 1-3 in Anne McCaffrey's Dragonriders of Pern series bundled into a discounted box set available on Amazon.
---
Honorable Mention: Joe Bishop and his Shower (Expeditionary Force series by Craig Alanson)
While the relationship between a man and his shower doesn't quite qualify as a romantic relationship (at least not in how we define it!) we had no choice but to include Craig Alanson's ExForce series thanks to hundreds of his readers coming out to support this *ahem* unconventional romance.
As captain of the UN starship Flying Dutchman, Joe is forbidden by regulations from having a romantic relationship with his subordinates. With the Dutchman away from Earth for months or years on each mission, the only humans Joe encounters are his subordinates, so the poor guy is desperately lonely. The ship's AI named 'Skippy' is unsympathetic to Joe's plight, teasing Joe that his only 'relief' is while he's in the privacy of his shower, reminding Joe that he should buy his shower something special for Valentine's Day, etc.
Being the only one of his kind, Skippy is also desperately lonely, so teasing Joe is a way of expressing his own anguish.
Also, Skippy is an asshole.
Check out book 1 in Craig Alanson's ExForce series, Columbus Day, available on Amazon (and free to read in Kindle Unlimited).
---
There you have it. 10 + 1 romantic relationships that have capture the hearts and minds of readers everywhere.
What do you think of that list? Do you agree, or do you feel as though your most-loved military sci-fi book/series is missing/didn't place as you think it deserved? Feel free to join us here in our Facebook group to chime in on the debate, and then check out our most recent poll while you're there. Don't have Facebook? Feel free to add to the comments below.
*All book-related copy in this post was pulled from Amazon & Wikipedia, unless otherwise credited.
https://discoverscifi.com/wp-content/uploads/2019/08/Copy-of-Best-Romance-in-Sci-Fi.png
315
560
Discover Sci-Fi
https://discoverscifi.com/wp-content/uploads/2019/09/discover-scifi.png
Discover Sci-Fi
2019-08-08 14:05:08
2019-08-23 17:05:28
The Top 10 (+1!) Romantic Relationships in Sci-Fi