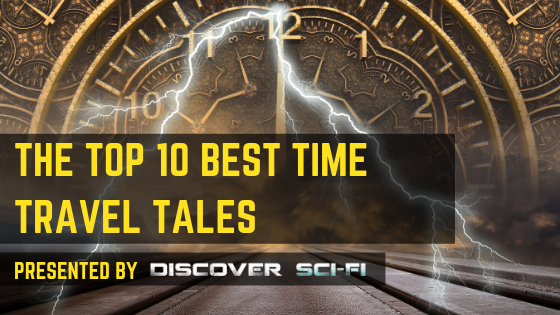 Did you know that there is an official Discover Sci-Fi Facebook group?
Fuelled by the opinions of thousands of sci-fi fans like yourself, each week we spark a new debate where you guys battle it out over which books rank at the top of best ever lists.
Ordered from 10 to 1 below based on your votes in the group and on this blog, this week we've got your top 10 selections for the best time travel tales (from a book) of all time.
Click on the links to pick up the books that inspired each of the books to add to your collection, and then add your comments at the bottom of this post (or in our Facebook group) to let us know if you agree (or not!).
Want to see who didn't make the cut? Click here to view the original poll that inspired this list.
*The results were decided by you based on votes tallied up between our Facebook group and on our blog.
10. The Time Traveler's Wife by Audrey Niffenegger
Rounding out the top 10 list is Audrey Niffenegger's innovative debut, The Time Traveler's Wife. In this touchingly romantic love story, Niffenegger skillfully interweaves her uniquely compelling take on time travel in well-written prose.
---
9. Slaughterhouse Five by Kurt Vonnegut
At number 9, is Slaughterhouse-Five by Kurt Vonnegut, an American classic, and one of the world's great antiwar books. Centering on the infamous World War II firebombing of Dresden, the novel is the result of what Kurt Vonnegut described as a twenty-three-year struggle to write a book about what he had witnessed as an American prisoner of war. It combines historical fiction, science fiction, autobiography, and satire in an account of the life of Billy Pilgrim, a barber's son turned draftee turned optometrist turned alien abductee. As Vonnegut had, Billy experiences the destruction of Dresden as a POW. Unlike Vonnegut, he experiences time travel, or coming "unstuck in time."
Fifty years after its initial publication at the height of the Vietnam War, Vonnegut's portrayal of political disillusionment, PTSD, and postwar anxiety feels as relevant, darkly humorous, and profoundly affecting as ever, an enduring beacon through our own era's uncertainties.
---
8. To Say Nothing of the Dog by Connie Willis
From Connie Willis, winner of multiple Hugo and Nebula Awards, comes your #8 pick, a comedic romp through an unpredictable world of mystery, love, and time travel . . .
To Say Nothing of the Dog is a science-fiction fantasy in the guise of an old-fashioned Victorian novel, complete with epigraphs, brief outlines, and a rather ugly boxer in three-quarters profile at the start of each chapter. Or is it a Victorian novel in the guise of a time-traveling tale, or a highly comic romp, or a great, allusive literary game, complete with spry references to Dorothy L. Sayers, Wilkie Collins, and Arthur Conan Doyle? Its title is the subtitle of Jerome K. Jerome's singular, and hilarious, Three Men in a Boat. In one scene the hero, Ned Henry, and his friends come upon Jerome, two men, and the dog Montmorency in–you guessed it–a boat. Jerome will later immortalize Ned's fumbling. (Or, more accurately, Jerome will earlier immortalize Ned's fumbling, because Ned is from the 21st century and Jerome from the 19th.)
---
7. The Outlander Series by Diana Galbadon
Unrivaled storytelling. Unforgettable characters. Rich historical detail. These are the hallmarks of Diana Gabaldon's work. Her New York Times bestselling Outlander novels have earned the praise of critics and captured the hearts of millions of fans. Here is the story that started it all, introducing two remarkable characters, Claire Beauchamp Randall and Jamie Fraser, in a spellbinding novel of passion and history that combines exhilarating adventure with a love story for the ages.
---
6. To Sail Beyond the Sunset by Robert Heinlein
In your #6 pick, Maureen Johnson, the somewhat irregular mother of Lazarus Long, wakes up in bed with a man and a cat. The cat is Pixel, well-known to fans of the New York Times best seller The Cat Who Walks through Walls. The man is a stranger to her, and besides that, he is dead.
So begins Robert A. Heinlein's To Sail Beyond the Sunset. Filled with the master's most beloved characters, this compelling work broadens and enriches his epic vision of time and space, life and death, love and desire. It is also an autobiographical masterpiece-and a wondrous return to the alternate universes that all Heinlein fans have come to know and love.
---
5. The Time Traders by Andre Norton
In her Time Trader series, Andre Norton tacitly assumes that the physics of time travel differs so significantly from the physics of space travel, especially hyperdrive-propelled interstellar flight, that a civilization that discovers the technology of one simply will not discover the technology of the other. Earth's physicists have discovered the secret of time travel, but the engineers and scientists who built and use the time transporters have devised a clever way to obtain the secrets of space travel: if it is not possible to discover the secrets, we get them from someone who did.
---
4. 1632 by Eric Flint
In Eric Flint's novel of time travel and alternate history, a six-mile square of West Virginia is tossed back in time and space to Germany in 1632, at the height of the barbaric and devastating Thirty Years' War. Repelling marauding mercenaries and housing German refugees are only the first of many problems the citizens of the tiny new U.S. face, problems including determining who shall be a citizen. In between action scenes and descriptions of technological military hardware, Flint handles that problem and other serious ethical questions seriously and offers a double handful of memorable characters: a Sephardic Jewish family that establishes commercial and marital ties with the Americans, a cheerleader captain turned lethal master sniper, a schoolteacher and an African American doctor who provide indispensable common sense and skill, a German refugee who is her family's sole protector, and, not least, King Gustavus Adolphus of Sweden. Not, perhaps, as elegant as some time-traveling alternate histories, Flint's is an intelligent page-turner nevertheless.
---
3. The End of Eternity by Isaac Asimov
One of Isaac Asimov's SF masterpieces, this stand-alone novel is a monument of the flowering of SF in the twentieth century. It is widely regarded as Asimov's single best SF novel.
Andrew Harlan is an Eternal, a member of the elite of the future. One of the few who live in Eternity, a location outside of place and time, Harlan's job is to create carefully controlled and enacted Reality Changes. These Changes are small, exactingly calculated shifts in the course of history, made for the benefit of humankind. Though each Change has been made for the greater good, there are also always costs.
---
2. 11/22/63 by Stephen King
On November 22, 1963, three shots rang out in Dallas, President Kennedy died, and the world changed. What if you could change it back? Stephen King's heart-stoppingly dramatic new novel is about a man who travels back in time to prevent the JFK assassination—a thousand page tour de force.
Following his massively successful novel Under the Dome, King sweeps readers back in time to another moment—a real life moment—when everything went wrong: the JFK assassination. And he introduces readers to a character who has the power to change the course of history.
---
1. The Time Machine by H.G. Wells
At #1 is the science fiction classic that coined the term "time machine" and is generally credited with the popularization of the concept of time travel. A must read for any fan of science fiction!
The Time Machine is a science fiction novella by H. G. Wells, published in 1895 and written as a frame narrative. The work is generally credited with the popularization of the concept of time travel by using a vehicle that allows an operator to travel purposely and selectively forwards or backwards in time. The term "time machine", coined by Wells, is now almost universally used to refer to such a vehicle.
The Time Machine has been adapted into three feature films of the same name, as well as two television versions, and a large number of comic book adaptations. It has also indirectly inspired many more works of fiction in many media productions
---
Well, what do you think of that list? Do you agree, or do you feel as though your most-loved time travel tale is missing/didn't place as you think it deserved? Feel free to join us here in our Facebook group to chime in on the debate, and then check out our most recent poll while you're there. Don't have Facebook? Feel free to add to the comments below.
*All book-related copy in this post was pulled from Amazon & Wikipedia.
https://discoverscifi.com/wp-content/uploads/2019/05/Copy-of-Copy-of-Copy-of-Copy-of-Copy-of-Copy-of-THE-MOST-ICONIC-CHARACTER-IN-SCI-FI.png
315
560
Discover Sci-Fi
https://discoverscifi.com/wp-content/uploads/2019/09/discover-scifi.png
Discover Sci-Fi
2019-05-09 11:41:09
2019-05-09 11:45:53
The top 10 best time travel tales of all time.