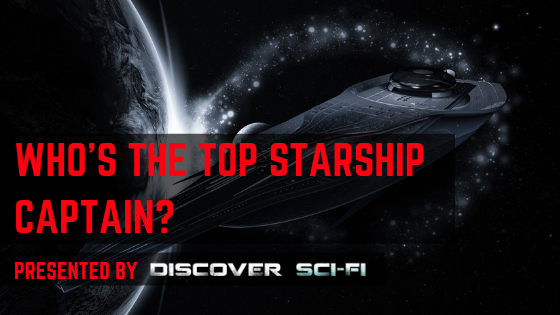 Did you know that there is an official Discover Sci-Fi Facebook group?
Fuelled by the opinions of thousands of sci-fi fans like yourself, each week we spark a new debate where you guys battle it out over which books rank at the top of best ever lists.
Ordered from 10 to 1 below based on your votes in the group and on this blog, this week we've got your top 10 selections for the best Starship Captains in a book/series of all time.
Click on the links to pick up the books featuring our courageous captains to add to your collection, and then add your comments at the bottom of this post (or in our Facebook group) to let us know if you agree (or not!).
Want to see who didn't make the cut? Click here to view the original poll that inspired this list.
*The results were decided by you based on votes tallied up between our Facebook group and on our blog.
---
10. Captain Wraith/Aeson Keel/Ford from the Galaxy's Edge series by Jason Anspach and Nick Cole
Galaxy's Edge is a co-written project by Jason Anspach and Nick Cole. Each book in the Galaxy's Edge series is an essential piece of an interconnected whole.
Aeson Keel is a main character introduced in book 1, Legionnaire. Captain and owner of the independent freighter ship Indelible VI. He's adopted the persona of "Wraith", a bounty hunter, in order to gain access of the underworld where bounty hunters live and work. 
Join the roguish Captain Keel and notorious bounty hunter Tyrus Rechs as they chase the same target in Galactic Outlaws. Continue to Kill Team to see how all these characters find their place on the galactic stage together, along with Legion Commander Keller, Dark Ops, and the mysterious secret agent X… then brace for a civil war initiated by the enigmatic Goth Sullus in Attack of Shadows. And that's only the beginning.
---
9. Cal Carver from the Space Team series by Barry J. Hutchison
Featuring epic space battles, alien gangsters, and several thousand flying Tobey Maguires, Space Team is the first book in the internationally bestselling series by award-winning author, Barry J. Hutchison. It stars small-time crook Cal Carver who, through a series of unfortunate events, finds himself forced into a team of some of the sector's most notorious villains and scumbags and tasked with delivering a package to a warlord-run solar system where the authorities daren't venture.
---
8. Col Joe Bishop from the ExForce series by Craig Alanson
Craig Alanson is a New York Times best-selling author of the (currently) 7 book Expeditionary Force (ExForce) series. His first audiobook Columbus Day, ExForce book 1, was one of five finalists for Audiobook Of The Year 2018.
The story follows Joe Bishop, a grunt in the army who is on Earth in the US during Columbus Day, one of the US holidays, when Earth is attacked by aliens. During the attack, a second alien race arrives, and it appears, chases off the first. The second alien race stay, enlisting humans to help in a galactic war, and suddenly Joe, who did some interesting things during the interrupted invasion, is thrust into the galaxy as a soldier on another planet.
---
7. "Black" Jack Geary from the Lost Fleet books by Jack Campbell
 The Lost Fleet by "Jack Campbell," which is the pseudonym for John G. Hemry, a retired Naval officer (and graduate of the U.S. Naval Academy in Annapolis). As Jack Campbell, he writes The Lost Fleet series of military science fiction novels.
Captain John "Black Jack" Geary's legendary exploits are known to every schoolchild. Revered for his heroic "last stand" in the early days of the war, he was presumed dead. But a century later, Geary miraculously returns from survival hibernation and takes command of the Alliance fleet as it faces annihilation by the Syndics.
---
6. Jim Holden from The Expanse series by James S. A. Corey
Coming in at number 6, is the revolutionary NYT bestselling Expanse series by James S. A. Corey which introduces Captain James Holden and his crew, as they unravel a horrifying solar system wide conspiracy that begins with a single missing girl.
---
5. Lazarus Long (Woodrow Wilson Smith) from various novels by Robert A. Heinlein
In your #5 pick, Lazarus Long is a fictional character featured in a number of science fiction novels by Robert A. Heinlein. Born in 1912 in the third generation of a selective breeding experiment run by the Ira Howard Foundation, Lazarus (birth name Woodrow Wilson Smith) becomes unusually long-lived, living well over two thousand years with the aid of occasional rejuvenation treatments. 
---
4. Tyler Barron from the Blood and the Stars series by Jay Allan
A duel, in the deepest darks, a savage fight between two veteran warriors, two captains, two heroes. An epic battle that only one can survive. A fight to determine if there is peace, or a bloody war where billions will die…
In Jay Allan's sweeping military sci-fi epic, Blood on the Stars, a distress call from a mining colony at the edge of Confederation space, sends Captain Tyler Barron and his ship forward into the unknown. Barron is the grandson of the Confederation's greatest hero, and his name has always carried great privilege, along with crushing responsibility. Now he must prove that he has inherited more than just a name from his famous ancestor. 
---
3. Malcolm Reynolds from the Firefly series by James Lovegrove
Malcolm 'Mal' Reynolds was the captain of the Firefly-class transport ship Serenity. During the Unification War, Mal fought for the Independents and was the highest ranking Browncoat to participate in and survive the Battle of Serenity Valley.
Malcolm's main mission is to keep his crew alive and to keep his ship flying. As Firefly writer Tim Minear stated in an interview: "It's just about getting by. That's always been the mission statement of what the show is — getting by." In Serenity, Mal says of himself: "[If the] Wind blows Northerly, I go North."
---
2. Jean-Luc Picard from the "Star Trek Next Generation" book series by various authors
Jean-Luc Picard is a fictional character in the Star Trek franchise, most often seen as the Captain of the starship USS Enterprise-D. As a character in the Star Trek franchise, Picard appears in various books, comics, computer games, and films throughout the 1990s. He is portrayed as being deeply moved by a desire to explore the universe and with a strong sense of duty, however he has misgivings about not having a family. The close-knit crew of the Enterprise provides his main friendships as they take on the Galaxy. Some of his interests, as presented by show include space exploration, Shakespeare, archeology, and earl grey tea.
---
1. Honor Harrington from the Honorverse series by David Weber
At #1 is Honor Stephanie Alexander-Harrington (née Honor Stephanie Harrington), a fictional character created in 1992 by writer David Weber as the heroine of the eponymous "Honorverse", a universe described in a series of best-selling military science fiction books set between 4003 and 4025 AD.
Harrington is an officer in the Royal Manticoran Navy (RMN), the space navy of the Star Kingdom of Manticore, an interstellar monarchy that counterbalances its relatively small size with superior space combat technology and capability. She has a genius for tactical command, often overcoming significant odds in critical battles and frequently finding herself at the centre of significant military actions. Her dedication to duty and uncompromising performance results in receiving numerous awards and promotions, earning the respect of interstellar empires, and accumulating implacable enemies. She is a skilled martial artist and through her association with her treecat companion Nimitz, develops an empathic sense that assists her in understanding the emotions of those around her.
---
Well, what do you think of that list? Do you agree, or do you feel as though your most-loved military sci-fi book/series is missing/didn't place as you think it deserved? Feel free to join us here in our Facebook group to chime in on the debate, and then check out our most recent poll while you're there. Don't have Facebook? Feel free to add to the comments below.
*All book-related copy in this post was pulled from Amazon & Wikipedia.
https://discoverscifi.com/wp-content/uploads/2019/05/Copy-of-Copy-of-Copy-of-Copy-of-Copy-of-Copy-of-Copy-of-THE-MOST-ICONIC-CHARACTER-IN-SCI-FI-1.png
315
560
Discover Sci-Fi
https://discoverscifi.com/wp-content/uploads/2019/09/discover-scifi.png
Discover Sci-Fi
2019-05-23 15:08:47
2019-10-13 05:42:00
The top 10 Starship Captains in a book/series of all time.