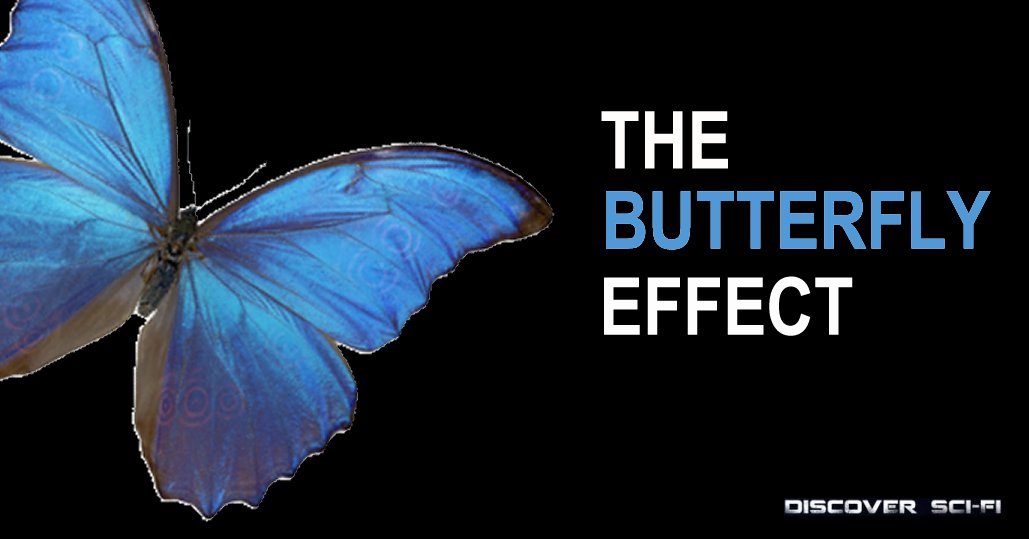 "Can anyone alter fate? All of us combined… or one great figure… or someone strategically placed, who happens to be in the right spot. Chance. Accident. And our lives, our world, hanging on it."
— Philip K. Dick
Ray Bradbury's classic short story A Sound of Thunder is the most reprinted science fiction story of all time. Set in the year 2055, a company offers time travelling safaris to the past, to the Cretaceous Era, to hunt a Tyrannosaurus rex.
The company takes great pains to choose targets that are about to die anyway, since the belief is that changes in the distant past could become an avalanche that changes everything. But despite all precautions, something goes utterly wrong—
Does the flap of a butterfly's wings in Brazil set off a tornado in Texas?
Butterfly Effect

Samuel Peralta

Because your father stopped in Strandja park
to point out that whirligig of wings–blue
argus, he said, Ultraaricia
Anteros–you were dazzled forever.

Those wings wafted you here, ten thousand six
hundred kilometres away, to the
University of California,
Davis. Encyclopedia of Insects

in arm, you haul yourself up the stairwell
of Briggs Hall. Your frail sandal spindles on
the threshold–and you trip, a beautiful,
crippled Lycaenidaen specimen,

into the butterfly net of my arms.
Somewhere in Texas, a hurricane stirs.
Besides the chaos theory reference, my free verse sonnet Butterfly Effect arose from many memories. Of my father writing a scientific monograph on moths and butterflies, and handing me a paper pamphlet of it, when I was young.
Of my fondness for the blue argus butterfly, from the family Lycaenidae, a specimen restricted to the Balkans in Europe.
Of seeing the Encyclopedia of Insects in a library, a bloody huge book.
And memories of the three years, I lived in Davis, California, where I won my first-ever literary prize, and where I first thought I was in love.
So here we are. Where we are now, what language we're speaking, what foods we eat, what we believe in—all of these are based on a myriad of events happening in the past, just so. Accidents. Coincidences. Chance.
We don't live in the world of Philip K. Dick's The Man in the High Castle because the Allied forces were victorious over the Axis powers in the Second World War.
We don't live in a world where Franklin D. Roosevelt was defeated in his third run for President of the United States, to be replaced by Charles Lindbergh, as in Philip Roth's The Plot Against America.
But what if? 
Speculative fiction itself is based on asking that question.
What if Pope John Paul I hadn't died after just a month in his office? What if the women's suffragist movement lost their battle for the right to vote? What if Steve Wozniak's focus had turned to medical technology instead of personal computers? What if the Japanese and United States of America had allied to combat an expected Great Depression? What if Edward Jenner had died prematurely before developing a vaccine for smallpox?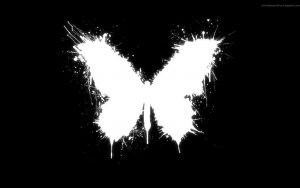 The flap of such butterfly wings would surely have changed everything—lives, loves, the world as we know it.
---
SAMUEL PERALTA is a physicist and storyteller. An Amazon bestselling author, he is also the creator and driving force behind the Future Chronicles series of speculative fiction anthologies, with 14 consecutive titles ranking at the top of the Amazon SF Bestseller lists, several hitting the overall Amazon Top 10 Bestsellers list. His own work has been recognized in Best American Science Fiction and included in the author community anthology for the John W. Campbell Award for Best New SF Writer.
This article was first published, in slightly different form, as the Foreword to Alt.History 101
https://discoverscifi.com/wp-content/uploads/2016/05/Butterfly-Effect-banner.jpg
539
1029
Samuel Peralta
https://discoverscifi.com/wp-content/uploads/2019/09/discover-scifi.png
Samuel Peralta
2016-05-14 04:07:26
2016-05-14 05:10:23
The Butterfly Effect