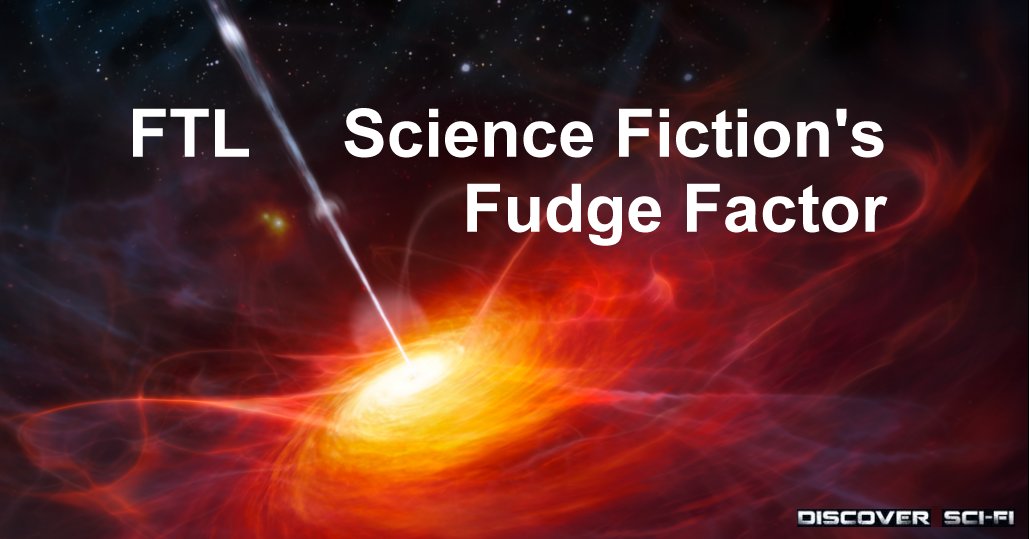 Hyperspace, warp drive, folding space…over the years, authors have come up with lots of ways to travel faster than light, a virtual necessity if we are to portray any plausible kind of interstellar civilization.  Yes, you can build a good story even with years of transit time between even close systems.  Generation ships and crews in suspended animation can be interesting, and of course, we can restrict the action to a single solar system.  The Expanse is a great example of this kind of action.  But sooner or later we want to break away from the gentle warmth of Sol and explore the galaxy.  And we need to leave light behind in our dust (cosmic dust) as we do.
This is where the fudging begins.  Without turning this into a physics symposium, let's just say that even the wildest imaginings of our knowledge of science tell us it is impossible to do this, especially for something like a spaceship full of human beings (as opposed to a few sub-particles).  So what do we do?  We make something up, of course.
Here is where we branch off in options.  Some authors make considerable effort to create systems of faster than light travel that at least seem plausible (they're not).  Others don't even worry about it.  They may call it a hyper-jump or a Jaworsky Field (after the fictional inventor), but they don't even try to explain how it functions.  It can also be a naturally occurring phenomenon, a warp point, for example, or something manmade (possibly by ancient aliens now mysteriously vanished).  But one way or another, we will get the spaceships from system to system.
Sometimes, however, there is method to the madness, though it is often driven by plot rather than science.  For example, look at something like Star Trek.  The Enterprise flits all across space, seemingly unconcerned with refueling or even maintenance, at least unless someone sneaks onboard and scrags the dilithium crystals.  This is a great system when you want your ships to be able to get anywhere, to function at maximum efficiency even when they are lost and cut off.  But what if you want the reality of travel to impose greater restrictions on your space fleet?
Other systems are based on more of a fixed system using point to point travel.  I've used warp gates in my Crimson Worlds series.  These largely unexplained natural phenomena allow travel back and forth between two systems that are lightyears apart.  A system like this offers a number of advantages, especially for the writer of military science fiction.  It takes space, in all its three dimensional glory, and reduces it to a series of connections.  It rationalizes battle lines, and it creates a value structure for systems, making those with larger numbers of gates leading to cool places worth fighting over.
FTL systems can also be used to regulate the pace of travel and warfare in space.  Perhaps ships can "jump" anywhere, without the need for warp gates or the like.  But they can only go so far, and then they need to stop and refuel…and possibly have repairs done.  This can drive the plot in a powerful way.  Why is this backwater world so important?  Why are there giant battleships in orbit?  Because it is on the invasion route into the heart of a space empire!  This can be used to create something akin to the "island hopping" campaigns of World War II, as fleets maneuver to secure bases along invasion routes.
So the next time you pick up a new space opera, stop and think about whether there was more than made up science in the author's mind.
---
JAY ALLAN currently lives in New York City, and has been reading science fiction and fantasy for just about as long as he;s been reading. His tastes are fairly varied and eclectic, but favorites are military and dystopian science fiction and epic fantasy, usually a little bit gritty.
Jay writes a lot of science fiction with military themes, but also other SF and some fantasy as well, with complex characters and lots of backstory and action. He thinks world-building is the heart of science fiction and fantasy, and since that is what he's always been drawn to as a reader, that is what he writes.
https://discoverscifi.com/wp-content/uploads/2016/05/FTL-Fudge-banner.jpg
539
1029
Jay Allan
https://discoverscifi.com/wp-content/uploads/2019/09/discover-scifi.png
Jay Allan
2016-05-20 19:24:30
2016-05-20 20:15:29
FTL - Science Fiction's Fudge Factor